[product name]: Pineapple Powder
[English name]: Pineapple Powder
[source of extraction]: pineapple belongs to the pineapple family, pineapple belongs to the fruit of pineapple, a perennial herbaceous fruit tree plant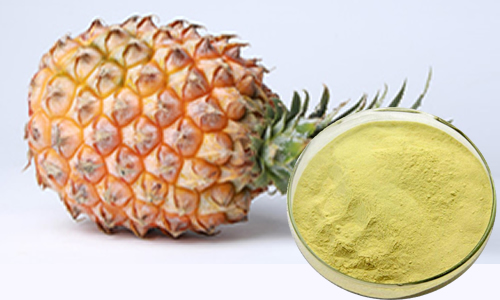 [about pineapple]:
Pineapple is rich in nutrients, including sugar, protein, fat, vitamin A, B1, B2, C, proteolytic enzyme and calcium, phosphorus, iron, organic acids, niacin, etc., especially vitamin C According to expert research, pineapple contains proteolytic enzymes that can break down proteins and aid digestion. It is a very suitable fruit for modern people who have eaten too much meat and greasy food for a long time.
[plant form]:
Perennial monocotyledonous evergreen herb. Dwarf, 0.5-1 m high, without main root, with fibrous fibrous root system; fleshy stem is wrapped by spirally growing leaves, in the shape of a sword; inflorescence is terminal, with many small flowers; fleshy compound fruit is formed by many ovary aggregation on the flower axis. It likes to be warm and grows best at an average annual temperature of 24-27 ℃. The growth is slow below 15 ℃, the critical temperature of freezing is 5 ℃, and the growth stops at 43 ℃. It is drought resistant, but it still needs certain water content. It is suitable to have annual rainfall of 1000-1500mm and even distribution. It is more shade resistant, but it grows well in sufficient sunlight, has high sugar content and good quality. It has wide adaptability to soil, likes to be loose, has good drainage, is rich in organic matter, and the sandy loam with pH value of 5-5.5 or mountain red soil is better. Pineapple plant height 0.7-1.5m, stem short thick, brown, there are suction buds out of the base. Around the rooting stem. Leaves tufted from the upper part of the stem. Spikes emerge from leaf clusters. The fruit is fleshy, like pineal compound fruit, mostly cylindrical; the flesh is yellow.
[pineapple nutritional value]:
every 100g pineapple contains 87.1g of water, 0.5g of protein, 0.1g of fat, 1.2g of fiber, 0.1mg of nicotinic acid, 126mg of potassium, 1.2mg of sodium, 0.08mg of zinc, 8.5g of carbohydrate, 20mg of calcium, 6mg of phosphorus, 0.2mg of iron, 0.08mg of carotene, 0.03mg of thiamine, 0.02mg of riboflavin, c8-30mg of vitamin, 0.3mg of ash G, including a variety of organic acids and pineapple enzyme.
[application field]:
Baked goods: bread, cake, filling, jam, moon cake, biscuit, chips, all kinds of cakes.
Health leisure food: health products, ice cream, candy, chocolate, buccal tablets, chewing gum, milk tea, etc.
3. Drink food: yogurt, milk drink, noodles, flavored soymilk, blueberry solid drink.
Daily chemical and pharmaceutical industry: skin care products, beauty products, cosmetics, tablets, capsules, granules.