[strawberry introduction]:
Strawberries are the flower bearers of strawberries in Rosaceae. The real fruit is the small particles on the surface of the flower bearers. They are perennial herbs with white flowers. It is native to South America, Europe and other places. Now there are strawberry cultivation and wild ones all over China. The fruits are picked and used fresh every summer when they are ripe from June to July.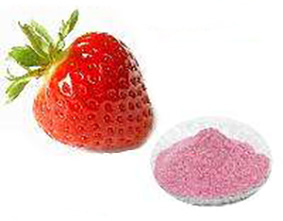 [main ingredients]: fruit powder.
[plant morphology]:
Strawberry (scientific name: Fragaria × ananassa Duch.), perennial herb. Height 10-40 cm, stem below leaf or nearly equal, densely spreading yellow pilose. Leaves three out, leaflets with short petioles, thicker texture, obovate or rhombus, dark green above, few hairless, light white green below, sparsely hairy, dense along veins; petioles densely developed yellow pilose. Cymes, subtending by a short stalk of leaflets; flowers bisexual; sepals ovate, slightly longer than epicalyx; petals white, suborbicular or obovate elliptic. The aggregate fruit is large, and the persistent sepals are erect and close to the fruit; the achenes are ovate and smooth. Flowering: April to may, fruiting: June to July
[nutritional value]:
strawberry is known as the "Queen of fruit" for its rich nutritional value. It is rich in vitamin C, vitamin A, vitamin E, vitamin PP, vitamin B1, vitamin B2, carotene, tannin, aspartic acid, copper, strawberry amine, pectin, cellulose, folic acid, iron, calcium, ellagic acid and anthocyanin. Especially the content of vitamin C is 7-10 times higher than that of apple and grape. The contents of malic acid, citric acid, vitamin B1, vitamin B2, and carotene, calcium, phosphorus, iron are 3 to 4 times higher than those of apples, pears, and grapes.