[introduction to acerola]:
Coniferous cherries, also known as Brazil cherries, belong to the golden tiger tail family. They can grow up to 5 meters high in dry forest areas. It can grow rich bright red fruit from some small seeds that look like European cherry. The diameter of the fruit is 1-2cm, so it is also called West Indian cherry tree. Ripe fruit is juicy, soft and has a pleasant acidity. In the sand of northeast Brazil, there are many large Brazilian cherry trees planted and wild. It originated in North and South America, Central America and Jamaica. It is also introduced in other countries and regions.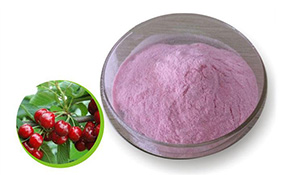 [main ingredients]:
Fruit powder.
[nutritional ingredients]:
The nutritional composition of acerola cherry is as follows: water 70.6%, protein 0.32%, fat 0.13%, sugar 3.8%. The content of vitamin C in acerola cherry per 100g can be as high as 2445mg, 11 times higher than that of guava, 17 times higher than that of strawberry, 35 times higher than that of lemon, which is the real "king of vitamin C". In addition to vitamin C, it also contains vitamin B1, vitamin B2, vitamin A, niacin, riboflavin, iron, phosphorus, calcium, etc., among which 28 mg of vitamin B1, 79 mg of vitamin B2, 1832 IU of vitamin A (IU in international units) and 340 mg of niacin are contained in every 100 g of fruit. The acerola cherry also contains vitamin P, which is helpful for the absorption of vitamin C
[application scope]:
health care products, health nutrition products, infant food, solid beverage, dairy products, convenience food, expanded food, seasoning, middle-aged and elderly food, bakery food, leisure food, cold food and cold drink, etc.