Plant source: angelca sinensis (oilv.) dieis
Specification: ligustilide 1%
Efficacy: regulate intestinal flora, resist oxidation, enhance immunity, assist in improving memory, moisten intestines and relieve constipation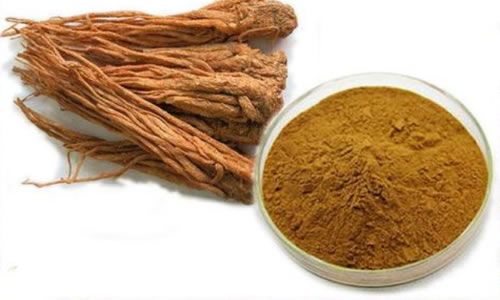 [plant form]:
Angelica sinensis (Oliv.) Diels, the dried root of Umbelliferae, is a perennial herb with special fragrance. The main root is thick and short, fleshy, and divided into many thick and long branched roots. Stem erect, purple. Perennial herb, 0.4-1m high. Stem erect, purplish, with prominent longitudinal grooves, smooth and glabrous. The total length of the dried root is about 10-25cm, the length is 3-10cm, the appearance is gray brown or brown, all of them have longitudinal wrinkles, the body is slightly cylindrical, the body is uneven, and there are 3-5 or more tails under them. The upper part of the tail is thick and the lower part is thin. It is twisted and has small pimple like trace of fibrous root. The air is clear and fragrant, and the taste is sweet and bitter. Generally, it needs to be cultivated for 3 years before harvesting. At the end of autumn, the roots should be dug.
Distribution:
Angelica is mainly distributed in Gansu, Yunnan, Sichuan, Shaanxi, Ningxia, Guizhou and Shanxi. It is mainly produced in Minxian, Dangchang, Weiyuan, Zhangxian, Wudu and Wenxian of Gansu; Weixi, Lijiang, Sanping, Deyin, Ninglang and Zhongdian of Yunnan; Nanping, Shixing, Hanyuan and Pingwu of Sichuan; Enshi, Badong, Shennongjia forest region, Hefeng and Lichuan of Hubei; Longxian, Pingli, Zhenping, Guyuan and Xiji of Ningxia; guide, Huangzhong and Datong of Qinghai; keshui, Xianning and Huangping of Guizhou; Luliang, Yuncheng, etc. Angelica in Gansu Province is a well-known genuine medicinal material at home and abroad. There are few Angelica in wild, only scattered in waxikou, shanxiandong, gaoloushan, Dangchang huaerpo, Tianshui, Zhangxian, Zhouqu, Mashan, etc.
[active ingredient]:
Ligustilide, n-butylidene phthalide, ferulic acid, nicotinic acid, sucrose and a variety of amino acids, as well as sesquiterpenes and so on.
[chemical composition]:
The volatile oil was found in the roots, 0.4% in Min County, Gansu Province and 0.7% in Wen County, Sichuan Province. The main components of the volatile oil are: butylphthalide, o-carboxybenzo-n-pentanone and Δ 2,4-dihydrophthalic anhydride. There are more than 10 kinds of volatile oil, including 3 terpenes. In addition, it contains more sucrose (40%), vitamin B12 (0.25-40 μ g / 100g) and vitamin A (calculated by vitamin A, the content is 0.0675%). Palmitic acid, stearic acid, myristic acid, unsaturated oleic acid and linoleic acid were found in the saponified part of root, and β - sitosterol was found in the unsaponifiable part. The whole grass has fragrance. It can be seen that each part contains volatile oil, while the fruit content is very much. The roots of dongdanggui and Beihai Angelica contain about 0.2% volatile oil, among which phthalein includes dongdanggui phthalide, butylphthalide, snake bed phthalide and isosnake bed phthalide. In addition, it also contains sesquiterpenes, p-cymosin, sucrose, vitamin B12, niacin, folic acid and β - sitosterol. The former also contains butylphthalide and cedanic acid lactone. Butanol and acetic acid are also found in the volatile oil of the roots and fruits of two Angelica species.